This was my first race since my achilles surgery in April. I felt I wasn't really in good enough shape yet to run a decent race, but I love to race so I just wanted to get out there again. I was nervous about how both of my feet would handle a race - the one with two surgeries, and also the one that needs a surgery. After not racing for a while, I was also conscious of my heart and was on the lookout for any signs of cardiac trouble.

I was actually somewhat happy the weather turned out the be awful. That meant I wouldn't have to worry about running a decent time. A thunderstorm with heavy rain just before the start prevented me from warming up, and left the course wet, slick, and completely underwater near the finish. High winds the previous day covered the route with branches and leaves. The wind and rain mostly stopped during the race itself, but it was still cold.

Ironically, the doctor who did my failed surgery (which led to me changing doctors and getting a second surgery to fix it) ran the race, and proved to be quite the runner himself. We actually talked, and had a pleasant conversation.

This was a pretty small race, with just 162 finishers. I didn't recognize any of the faster runners, but there were some younger runners who looked like the ones to beat. At the start a college aged guy went blasting off the front, looking like he was going to run 14 minutes. He run the first 1/4 mile in maybe 70 seconds, at which point he was already at least 10 seconds ahead of the pack and continuing to pull away. I expected to run somewhere around the lead women, but they went out fairly slow so I tucked in behind a couple high school kids. But soon they began to slow. Instead of sticking with them and racing for second, I decided to take a risk and try to run the best time I could in the conditions. So I moved ahead and pressed the pace, knowing that could backfire and cost me 2nd or 3rd if I couldn't hold it.

The leader looked like an elite runner and appeared to be running strong, but I soon realized he had stopped pulling away after his fast start. His lead was huge, but as we approached the mile mark, I was surprised to find myself clearly closing the gap and there was no doubt I would catch him. The question was, was he just cruising waiting to see if someone was going to challenge him? I decided to pass him aggressively once I caught him, which would maybe convince him not to chase me. I moved by a little before the midpoint of the race, and he hung close through some little, rolling hills. I'm not great running uphill, and he was still there as we climbed the bridge over the river. But I'm great running downhill, so I surged hard coming off the bridge and opened up a gap. By the time I hit 2 miles in an improbable 10:55, I was feeling great, had a comfortable lead, and had little doubt I was going to win.

Unfortunately, in the final half mile, the course markings had been washed away by the rain, and the route makes a few complicated turns. The lead bike went to the right, but the volunteer was pointing to the left. The volunteer and I yelled back and forth, and I decided the volunteer was correct so I turned left. I did a little loop around a small pond, and other volunteers confirmed I had gone the right direction. Then another volunteer pointed me into the long finishing stretch. The lead bike was now coming in from a side path to rejoin my route, and behind me I could hear a volunteer yelling - not clearly at me but maybe at either the lead bicyclist or another volunteer. I plowed through a stretch and ankle deep water and to the finish.

Confused by my impossibly fast finishing time (16:25), I now looked back to see everyone behind me was taking a different and somewhat longer route. I had cut a chuck off the course. It would have been even worse had I followed the lead cyclist, who went even shorter still. I talked to the race director about what the route was supposed to be, and she actually didn't know. But clearly I didn't run a full 5K. While it didn't affect the placing and it wasn't entirely my fault, I should have been disqualified. Instead I now have this ridiculous 5K time floating out there that isn't real. Some of my friends have already contacted me, marveling over how I could run that fast - when of course I didn't.

Now I think I'll run another 5K on Thanksgiving in order to post a real time to see where I'm at. Still I think I ran exceptionally well in this race, whatever the distance actually was. I would have been the overall winner no matter what, which is a great result for my first race back.

EugeneRunner




Posts

: 127


Join date

: 2014-01-09


Location

: Eugene, Oregon



Glad to hear all of your parts passed the stress test! It never occurred to me that the lead runner has to be concerned with race personnel working the bugs out of their guidance instructions -- I always have the benefit of a course with all of the bugs worked out.


_________________
Mitral valve repair 2002
Cleveland Clinic

RoadKillBill




Posts

: 319


Join date

: 2013-04-04



Congratulations on a nice race.

I have understood how the lead bikes can mess it up. A few weeks back I saw the lead biker (in a local race marathon) go left instead of right at a fork in the running path (even though there was a big arrow) and then 1/4 mile later realized their mistake and had to cut through grass to get back on track. I don't think it mattered much since the leader had a pretty significant lead....unless they were also looking to PR in additional to winning the race. There was also a 1/2 marathon over the weekend where my friend was pacing the 1:30 group and they missed a turn and went an extra 1.1 miles.

Bean Counter




Posts

: 48


Join date

: 2013-10-05



Great Race!! First place, first race back... Fantastic!

_________________
Dave
4X CABG Feb 17, 1999 at 46 years.

Dave Tuttle




Posts

: 906


Join date

: 2013-04-01


Location

: Western New York State



As usual, I look like I'm in extreme pain while running this race.  Of course that makes sense, because I am.  But I pretty much look like this right from the start.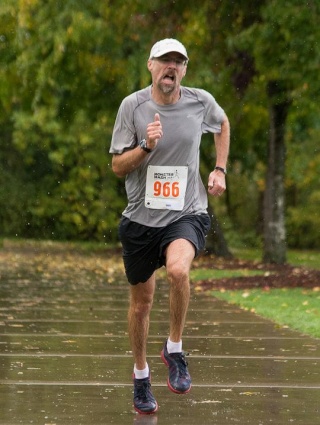 EugeneRunner




Posts

: 127


Join date

: 2014-01-09


Location

: Eugene, Oregon




_________________
Mitral valve repair
Afib, arrhythmia
2 catheter ablations

twal




Posts

: 307


Join date

: 2013-04-15


Age

: 66


Location

: Nanticoke, PA, USA



You have had a great comeback from your Achilles surgery, until someone has surgery on their feet, they have no idea the journey, you have done well.    Congratulations!  

Love the pic!
---
Permissions in this forum:
You
cannot
reply to topics in this forum