Nate and I went up North for a quick trip – caught some AMAZING fall color and ran on the Mackinac Bridge!!!!
The morning of the event I woke up with a VERY bad sore throat…..ran it anyway and had an amazing time! It's a 5 mile run, the first two miles are an uphill climb – but the views are incredible! The sun was rising right over the water in the East – and the moon was setting in the West – unbelievable!!!
Ran 47:35 for 5 miles and now with all my traveling around I'm really VERY sick!!!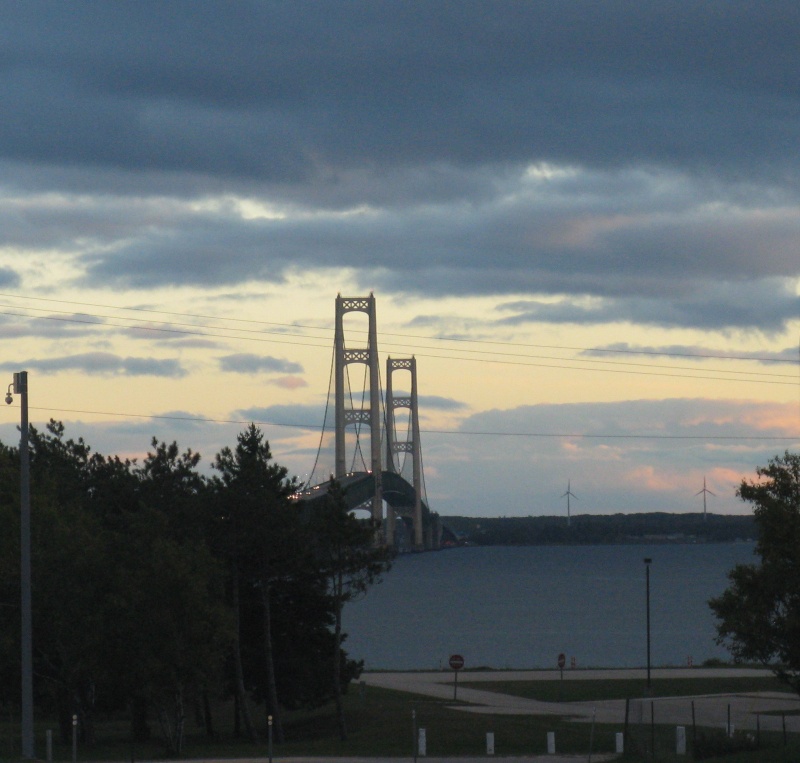 Last edited by Rachel August on Mon Oct 13, 2014 5:15 pm; edited 1 time in total

_________________
Rachel
OHS - July 15, 2011
Aortic Valve Replacement (Edwards 3300TFX) and Ascending Aortic Aneurysm Repair

Rachel August




Posts

: 612


Join date

: 2013-04-15



That looks like a very Cool place to run Rachel!

Sorry to hear you're sick but at least you got to enjoy that great run first!

_________________
Dave
4X CABG Feb 17, 1999 at 46 years.

Dave Tuttle




Posts

: 906


Join date

: 2013-04-01


Location

: Western New York State



Wonderful! Great pics too.
Sorry you are not feeling great Rachel....But looks like a fun run!!!

_________________
Aortic valve replacement
Bovine Tissue Valve
March 2010
Cleveland Clinic

echoguy




Posts

: 286


Join date

: 2013-04-15


Location

: Cincinnati



Sorry to hear you are ill, but glad you were able to get that run in.

Bean Counter




Posts

: 48


Join date

: 2013-10-05



Well done on your run, and nice photo. Be careful after you 10mile run recently, as your immune system might be low, and you are open to infection. I was put onto "New Stream' SPIRULINA many years ago, and I swear by it! (by New Zealand Champion)
I had done a 3.5 hours training run for a 45km mountain race; got home so tired and fatigued, that I decided to go to bed! I took 3 spirulina tabs before I lay down. The next thing i knew - I felt so full of energy, that I got up, and went downtown for coffee/cake!!
Thought that info might be of interest.
See Ya
Brian

_________________
OHS 8/12/2011
AVR Replacement: (Edwards 3300TFX nice 'PIGGY'

haggis basher




Posts

: 59


Join date

: 2014-03-21


Age

: 77


Location

: Sydney, Australia



Thanks for the tip Brian! I'm still very sick, but at least I can breathe today so I feel optimistic that I'm making some progress.....my challenge is going to be to slow down and take it easy for the next couple days....problem is I've been going stir crazy staying at home but I know I can't afford to push it!

_________________
Rachel
OHS - July 15, 2011
Aortic Valve Replacement (Edwards 3300TFX) and Ascending Aortic Aneurysm Repair

Rachel August




Posts

: 612


Join date

: 2013-04-15



---
Permissions in this forum:
You
cannot
reply to topics in this forum