What an AMAZING time at the Medtronics Global Heroes Event!!!! Everyone who has been was 110% correct in that we were treated like rock stars!!!! I met some amazing and inspirational people which was the highlight of my time there. Ran with Carolin from Italy – she was so cool!!!! We crossed the finish line together and just shared an incredible bond…..we truly are sisters!!!! The people who work at Medtronics were also so inspiring….I'm so grateful for the smart people of this world who chose to dedicate their lives to save and improve the lives of people like us!
Thanks to Mike and the rest of the Heart group for the great encouraging signs!!!!
Here are some of my pictures.
http://s807.photobucket.com/user/Rachel_August/slideshow/Medtronic
Oh - our time for the 10 mile was 1:34:17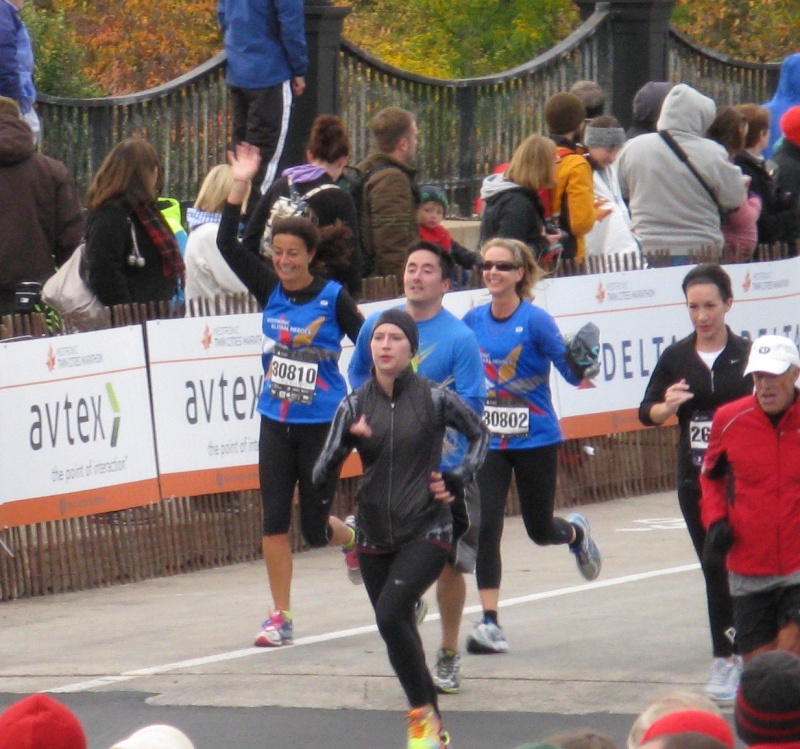 _________________
Rachel
OHS - July 15, 2011
Aortic Valve Replacement (Edwards 3300TFX) and Ascending Aortic Aneurysm Repair

Rachel August




Posts

: 612


Join date

: 2013-04-15



Wonderful!!!
Savor the time, and start thinking about the next.....

_________________
Aortic valve replacement
Bovine Tissue Valve
March 2010
Cleveland Clinic

echoguy




Posts

: 286


Join date

: 2013-04-15


Location

: Cincinnati



Well done! A magnificent achievement. Love the photos. Nice time Too.
See Ya
Brian

_________________
OHS 8/12/2011
AVR Replacement: (Edwards 3300TFX nice 'PIGGY'

haggis basher




Posts

: 59


Join date

: 2014-03-21


Age

: 77


Location

: Sydney, Australia



Nice pics!  I am pretty sure that smile will still be there in Harrisburg!  So glad you enjoyed it.....

Tom price




Posts

: 120


Join date

: 2013-04-24



Great job. And you beat Brad.


_________________
Mitral valve repair
Afib, arrhythmia
2 catheter ablations

twal




Posts

: 307


Join date

: 2013-04-15


Age

: 66


Location

: Nanticoke, PA, USA



It looks like you had a fantastic time Rachel! Great pictures too... You Rock


_________________
Dave
4X CABG Feb 17, 1999 at 46 years.

Dave Tuttle




Posts

: 906


Join date

: 2013-04-01


Location

: Western New York State



Finding great difficulty summing this weekend up, but I'm left with such great feelings and inspiration that it feels like another awakening for me.

Rachel, thank you for getting the pictures up so fast, I'm sitting here on a computer that is about to crash and will not allow me to do the same, but I will soon.

I read all your well wishes here on the site with my phone the night before the run and I REALLY appreciated the support!

It was especially great to see the signs from Mike Nall and the HEART Buddies!

Don, it was a pleasure to see you again also!

twal....Yep, she is a speedster!

Thanks so much everyone, not just for the support this weekend, but for the years of support that got me here, you made this all possible.

BA




Posts

: 29


Join date

: 2014-06-17



Congratulations; looks like it was just an overall great time! Great photos as well!

Bean Counter




Posts

: 48


Join date

: 2013-10-05



Great pictures and awesome job representing!!! Thank you!!
I'm jealous, hopefully I can be there some day.

_________________
AVR 2007
CPVT, ICD 2012
Mitral Valve prolapse

kyoung




Posts

: 65


Join date

: 2013-05-07


Location

: Illinois



---
Permissions in this forum:
You
cannot
reply to topics in this forum